St. Brigid's N.S. made its first ever appearance at the RDS Primary Science Fair this year on Thursday 7th January. 4th, 5th and 6th Class completed a project based around the topic of electricity. The children learned all about electricity and how electrical appliances work. They designed and made a mini golf course powered by a simple circuit. A great day was had by all with some of the children even featuring on RTE News2Day. Below are some photos and a few accounts of the children's experiences of their first time at the RDS Primary Science Fair.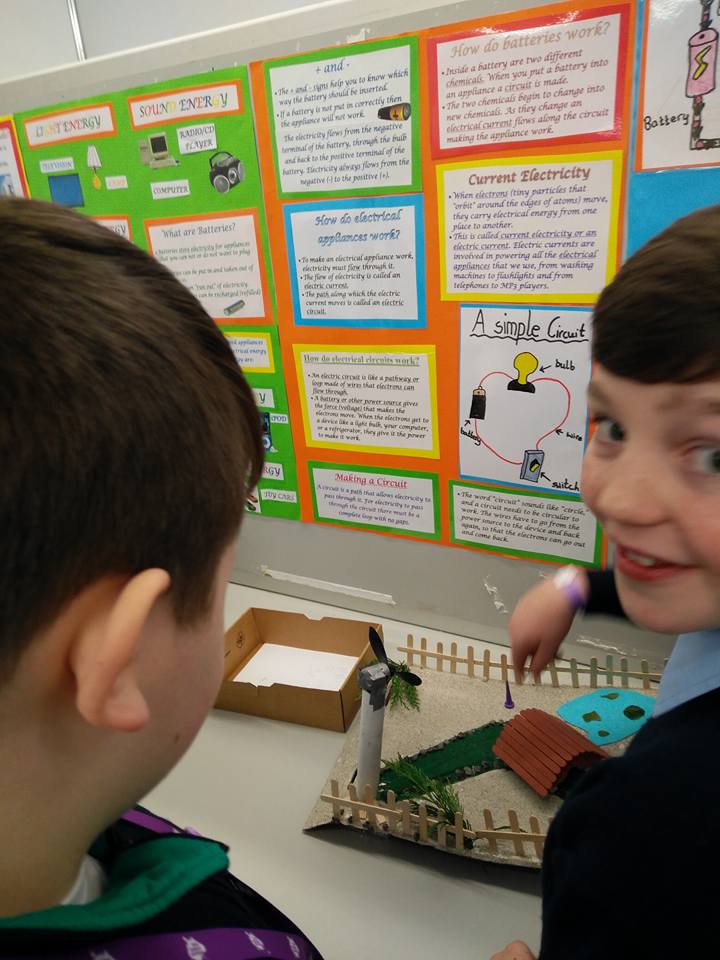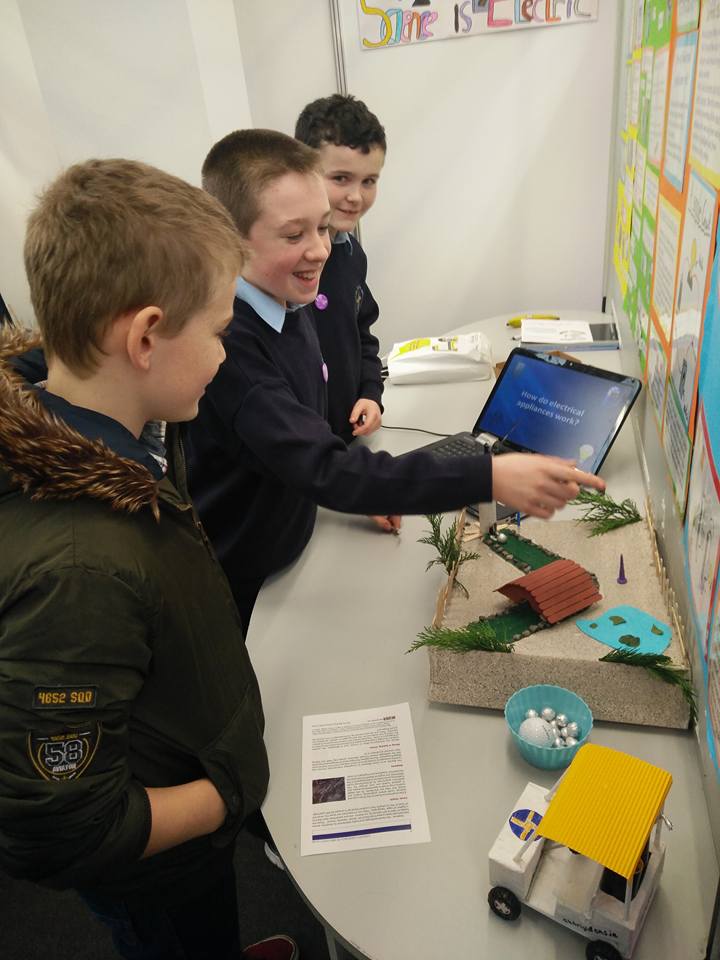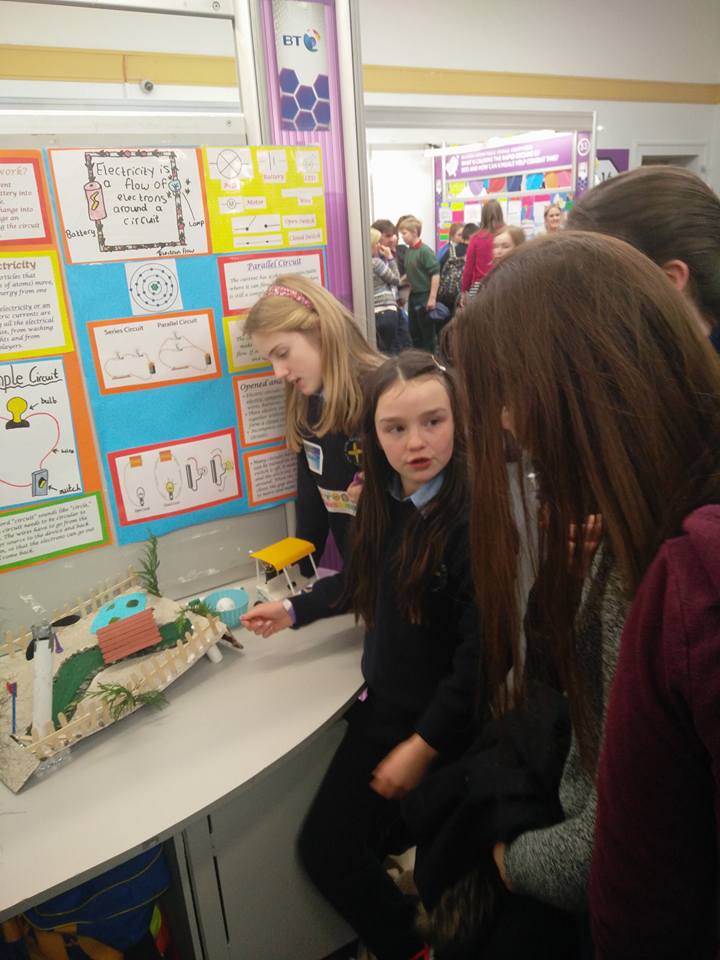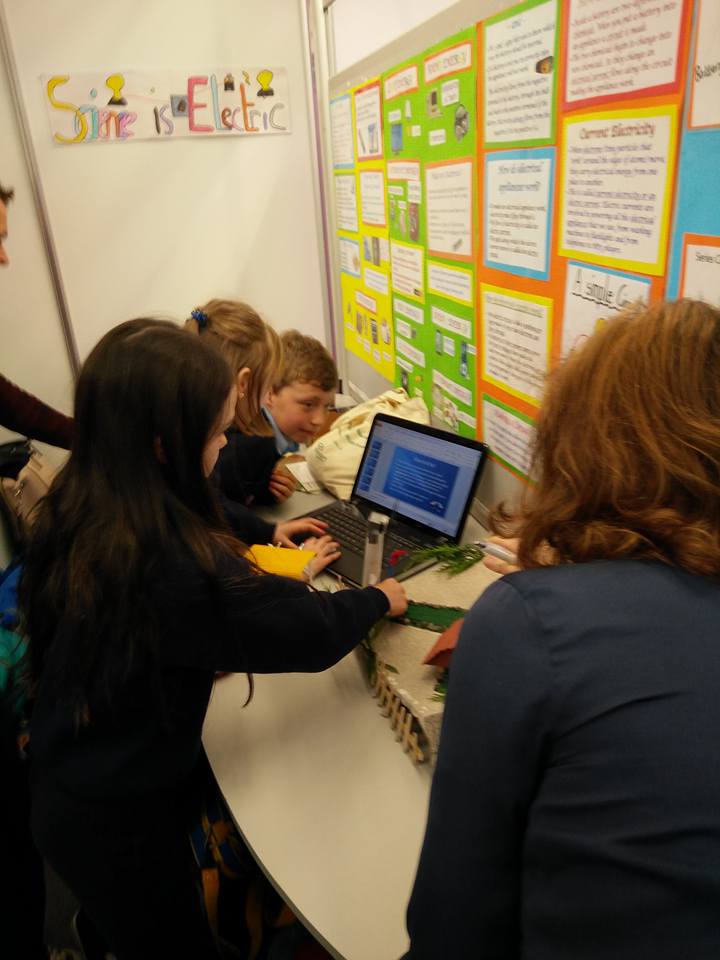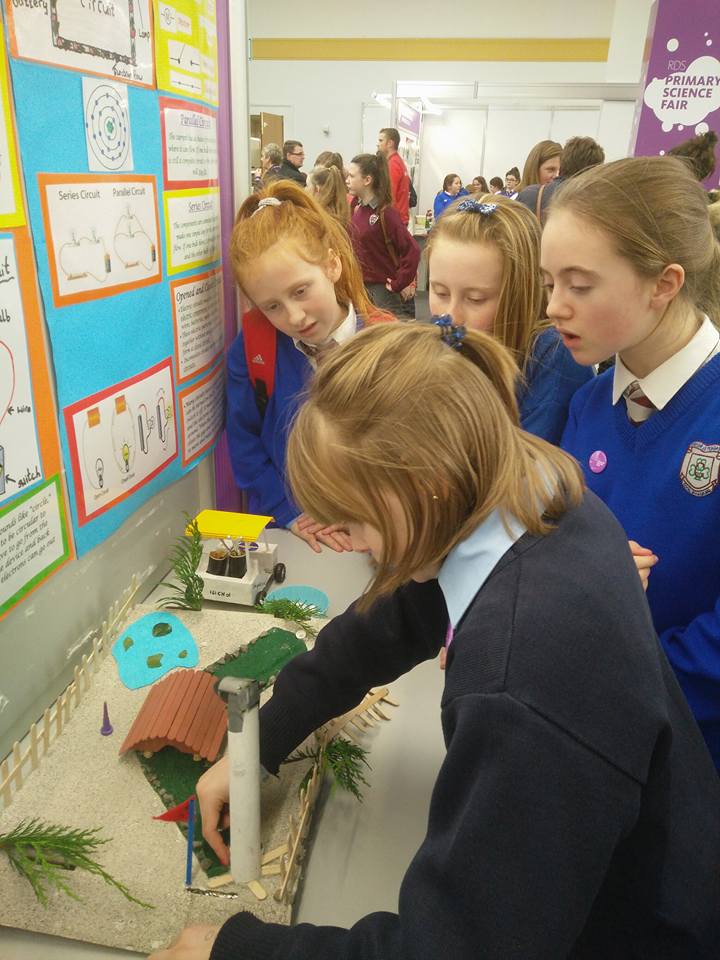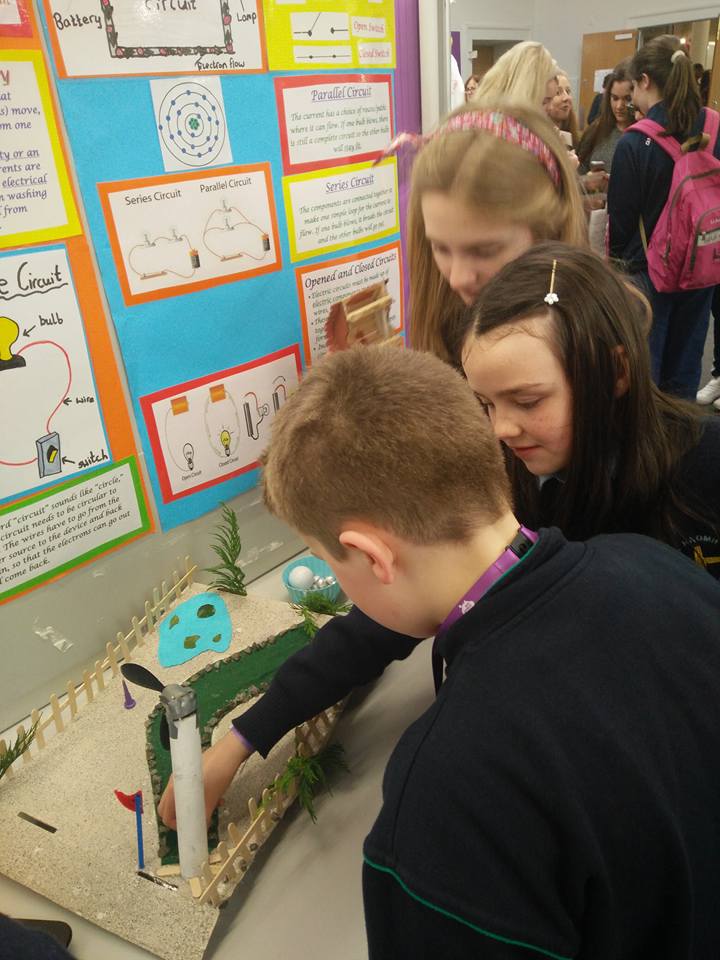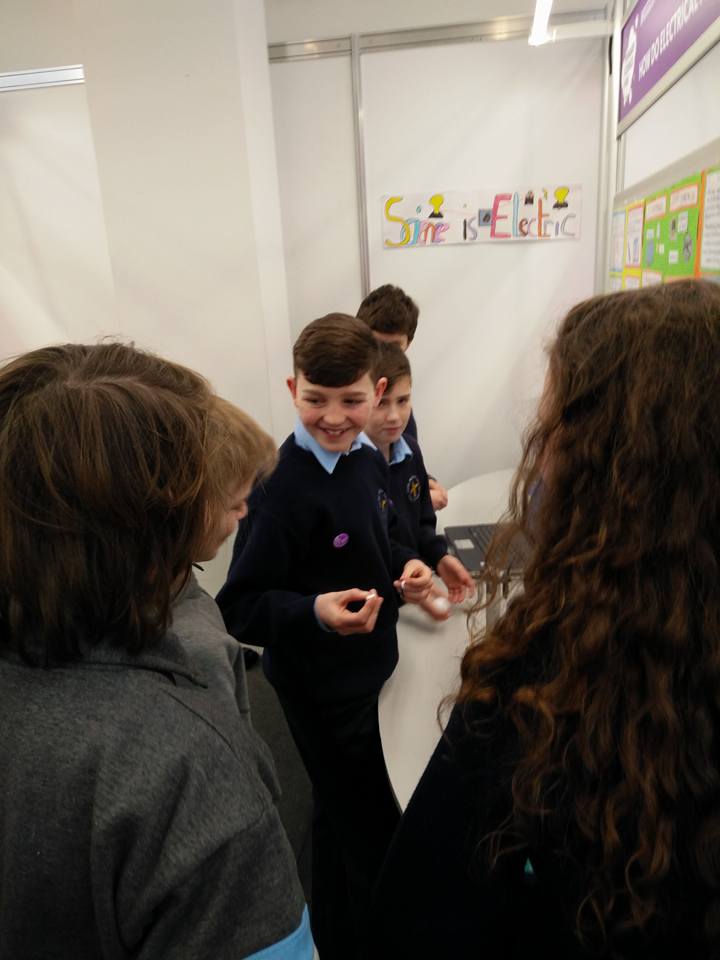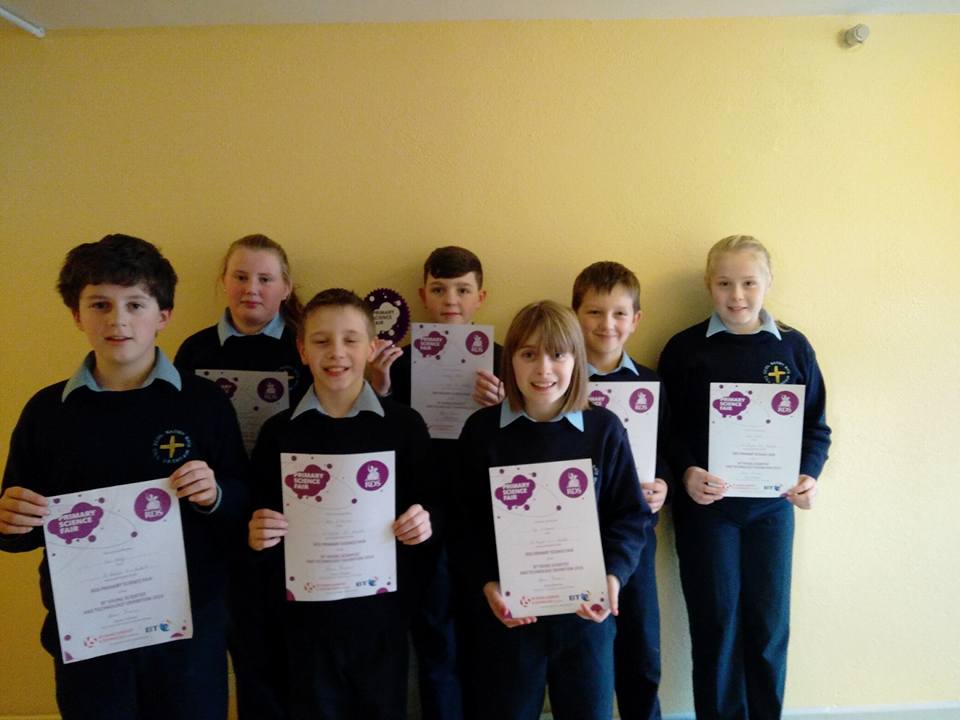 Yesterday, on the 7th of January, all of the class went up to Dublin to the science fair. We had to be in school by 6.30 am. We reached the RDS around 9 o'clock. When we got there, we saw some really cool stuff like people on the news and radio, lego and a jigsaw that you could see a picture of yourself on. It was really good for my first time going. Our project was about circuits and electricity and we made a golf course. I enjoyed going to the RDS and the fair was really good. My favourite project there was the car. There was a person somewhere in Ireland with a key that could control a car that was in front of you. We got home at 5.30. I really want to go back right now, if I could.  I would love to go back next year. There was also projects about cars, super Mario world and another about wells in the ground. There was one about how we see. Those were my favourite projects at the RDS primary science fair!
By Declan Meehan: 4th Class
On the 7th January, our class went to the science fair in the RDS in Dublin. We went on a bus. Our bus drivers' name was Brian. He was very good to us by putting our bags into the boot and looking after our project. We arrived at the RDS before 9 o'clock. When we got to the RDS, it was so busy! When we got our stand, we helped Ms. Tierney set up our project. Our project was all about electricity. We learned lots of new things about electricity. We also made a golf course which used a battery, motor, wires and an LED. When other schools came around to our stall, we would tell them how our project worked. We told them that the ball is like a switch and you need to hit the ball into the hole to connect to the wires to close the circuit because it was an open circuit and wouldn't work because of the gap in the circuit. We asked them if they wanted to have a go at using the golf course. In my group, there was Aimee, Aoife, Emma, Katie and myself. We were allowed to go around to look at other stands on our own and were given a time to return to our stand. You could get lots of free stuff at the stands. We went to one stand with lots of different types of rocks. We had to figure out the pattern to order the rocks from oldest to youngest. We figured it out, so we got a goodie bag. We got to hold the oldest stone. It was a great day. I would definitely like to go back again next year.
By Emma Mulvaney (5th Class)
On the 7th January, we went to the BT Young Scientist Primary Fair. I got up at 5:45. We left the school at 6.40 and arrived at 8:45. When we got there, we set up our stand. Our project was about electricity. At about 9:45, we split into small groups. One group had to stand at the stall for 45 minutes while the rest walked around looking at other projects. I was interviewed by RTE. Some of us were on News2day. At about 3:00, we walked back to the bus. When I got home I was very tired but I really enjoyed myself and I would love to go back again next year.
By: Aoife Rudden (6th Class)
On the 7th of January, I had to wake up at 6 o'clock in the morning to be at the school at 6.30. When we got to Dublin, we set up and Daniel, Tara, Cian and myself were the first group to stand at the stall to explain our project to lots of people. Other schools came around and asked us how it worked and I explained it to them. Another group came and took over and it was our turn to look at other projects. One secondary school had a robot with a boy who told the robot to turn off the Christmas tree lights and it did and he told it to change the TV channel and it did. It was amazing. All of the other projects were quite good. We went to Eddie Rockets for food. Our day in the RDS was class and I would love to go back again.
By: Pádraigh Smith (6th Class)